There are hundreds of reasons to read Magical Childhood, this is just one of them.
A Magical Childhood
Those who have been reading Magical Childhood for a while know that I often recommend sheet painting.  It's even one of the first crafts I put up on the original Magical Childhood site.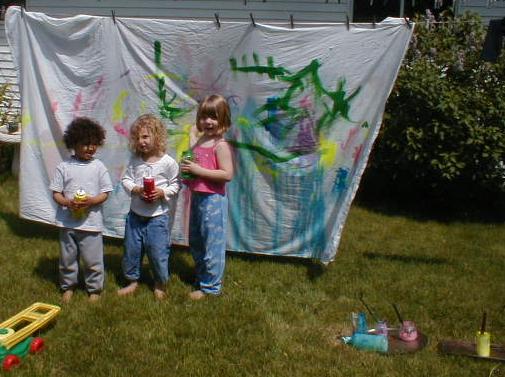 We have been using an old white bed sheet for crafts and sheet painting for over a dozen years now. 
In the summer time, we hang it on the clothes line and the kids use paint to decorate it. 
Sometimes we put it on the ground and they decorate it with their feet. 
Sometimes it's washable paint, sometimes not. 
The sheet looks different every year and every project. 
In the winter time and on rainy days, the sheet is our art tablecloth.  It doesn't matter how messy or staining an activity is, because if it stains the craft sheet it just adds more character and another memory. 
I love my craft sheet and it makes…
View original post 90 more words